Below you can find out more information about some of the amazng artists and crafters currently showcasing their unique items in Freedom Works Kishorn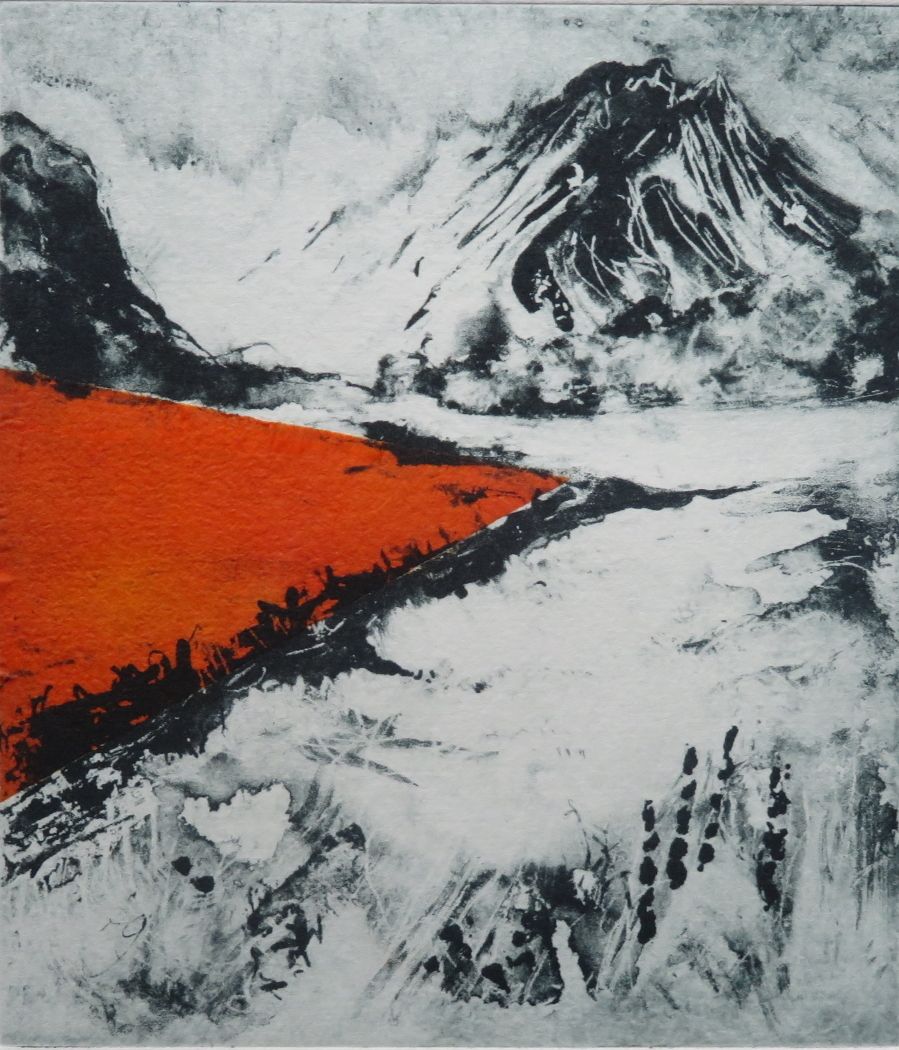 Aileen Grant - Artist
I draw and paint landscapes using charcoal, graphite, acrylic, watercolour, gouache, and inks. I'm also a printmaker & a member of Edinburgh Printmakers and Highland Print Studios. I have a portfolio of etchings, aquatints and photopolymer prints as well as linocuts and relief prints. I like to try out new techniques & materials, so check my blog to see what I'm currently up to. My love of the outdoors means that landscape and nature are themes I return to again and again. I'm also continuing to expand my knowledge of art history & gain greater insight into the work of artists of the past.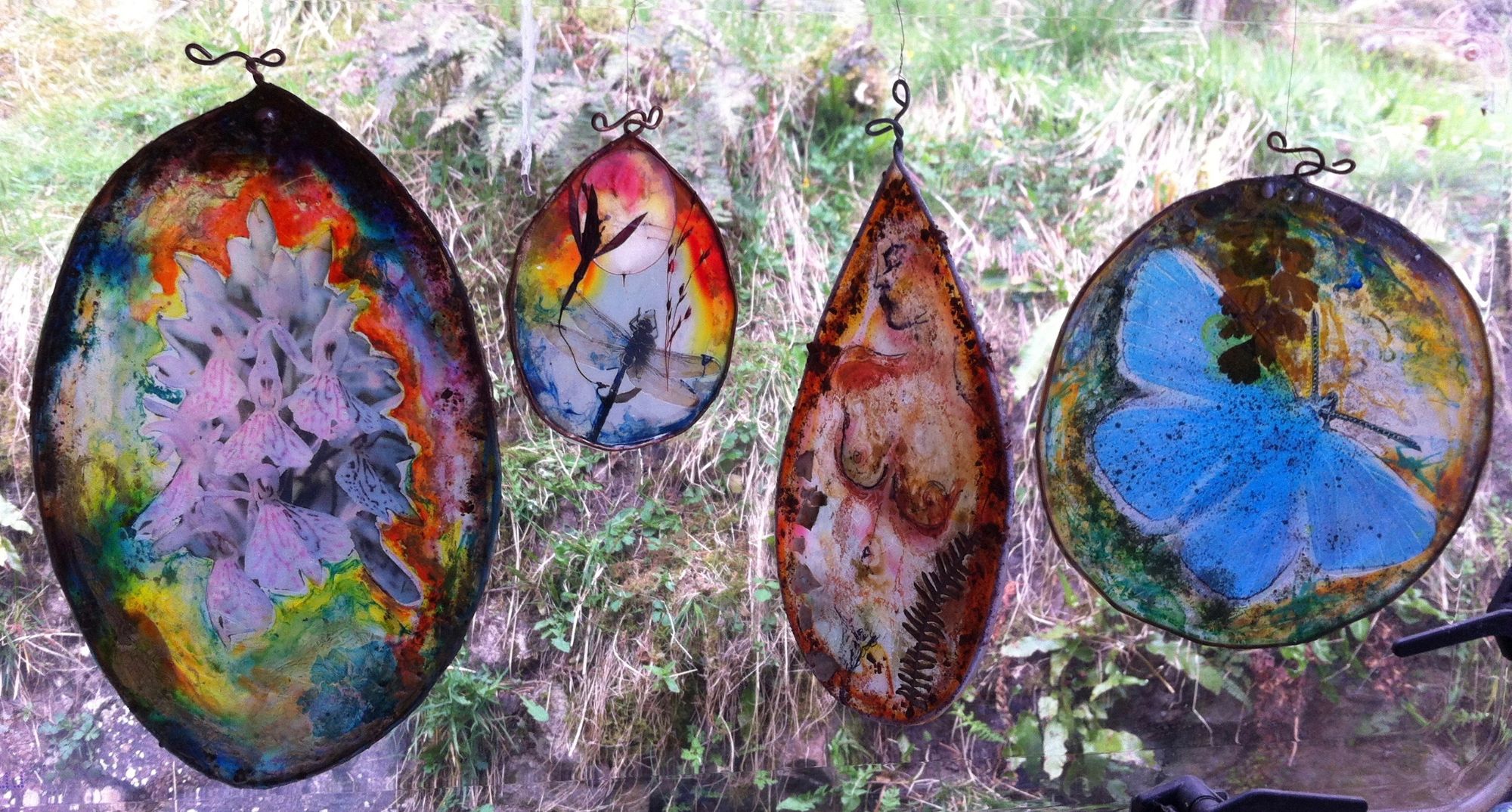 Anne Roberts Nicoll
Anne lives in Assynt and uses her skills to create the most beautiful window hangings. These individual works of art are created by hand, over a period of often days as each individual layer has to harden before the next can be allpied. Anne uses recycled copper or sometimes seaweed as the frame, and the layers used often include items from local beaches and some further afield, such as mica garnet sand from Mallaig and shell sand from Skye, as well as pyrite, freshwater pearls and pressed flowers.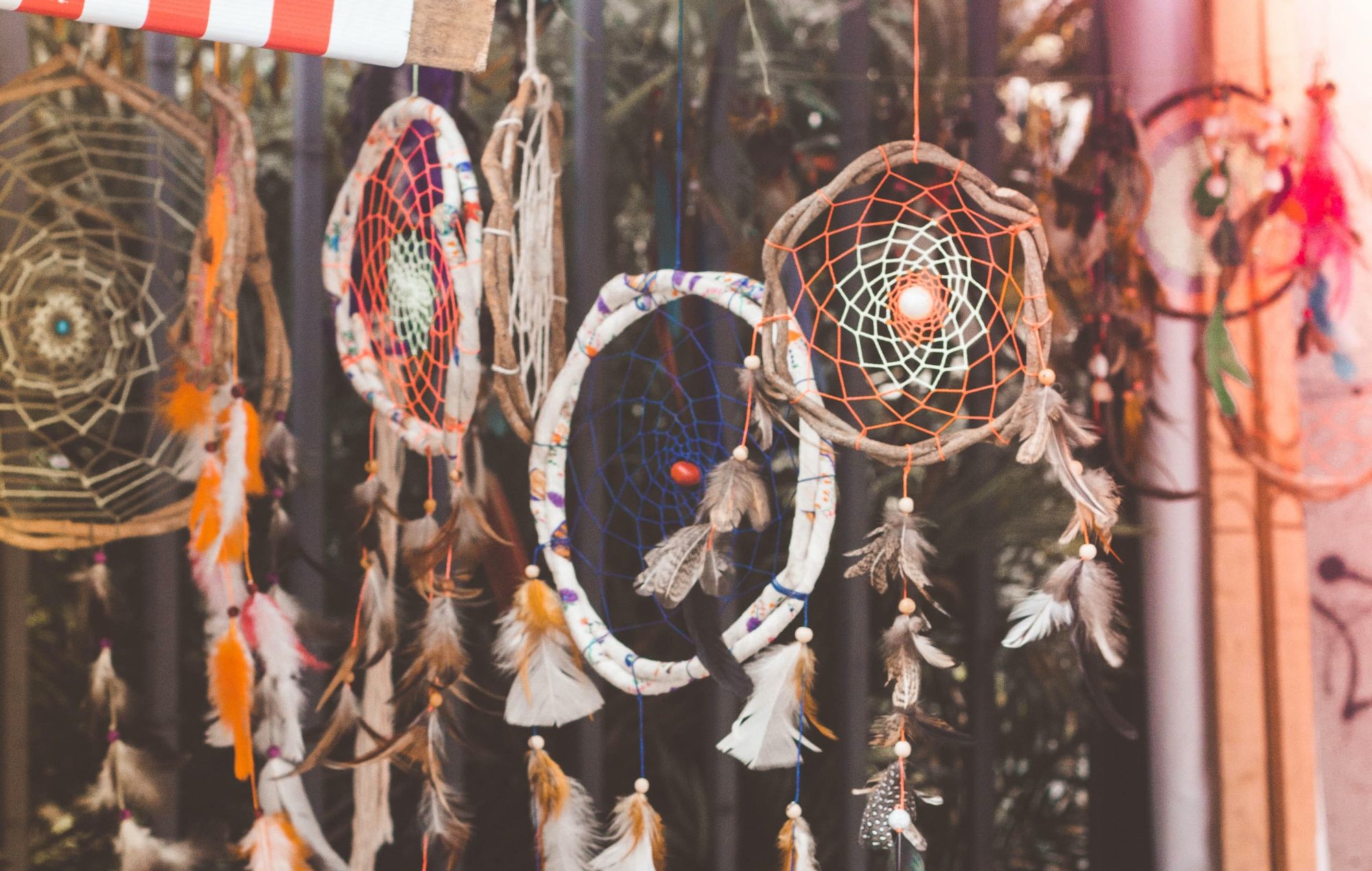 Catch The Dream Crafts - Ali Johnson, of Freedom Works Kishorn
So....long before Freedom Works Kishorn was even dreamt of, there was Catch The Dream Crafts. After moving up to the glorious Scottish Highlands in 2016, the beauty, idyllic landscape, the remoteness and the peace inspired me to revisit crafts I had done many years ago but never had the time for, as well as learn new ones. I have made dreamcatchers for many years and now, after several workshops and a glorious stay in Lerwick for Shetland Wool Week, I added needlefelting, fairisle knitting and card making to my stall at local craft markets I attended. In a bid to do my part in helping the environment, I have also started making my own soaps and solid shampoo which have proved very popular, along with the newest addition - beeswax food wraps. These items can now all be found in my lovely little shop - Freedom Works Kishorn.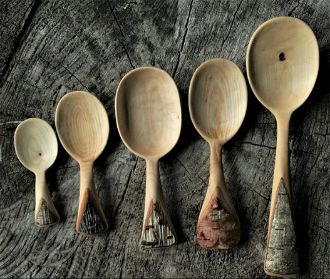 Chris Goodman - Assynt Wood
I love the creative process of making beautiful things out of wood - from finding a fallen branch to turning it into a unique spoon. I carve wood when it's green - still fresh and supple - before leaving it to season and then oiling with organic linseed. All my items are suitable for everyday use - just wash them in warm soapy water and dry them straight away. I use wood from trees grown in the local area, predominantly Birch, Rowan and Hazel but also occasionally Holly, Oak, Elm, Cherry, Willow, Apple and other species I chance upon. I source my wood from friends crofts where it is sustainably coppiced or from trees cut down to keep roads and powerlines clear. I try to keep my impact on the environment to a minimum by cycling to work, using hand tools rather than power tools and using organic linseed to protect my finished work.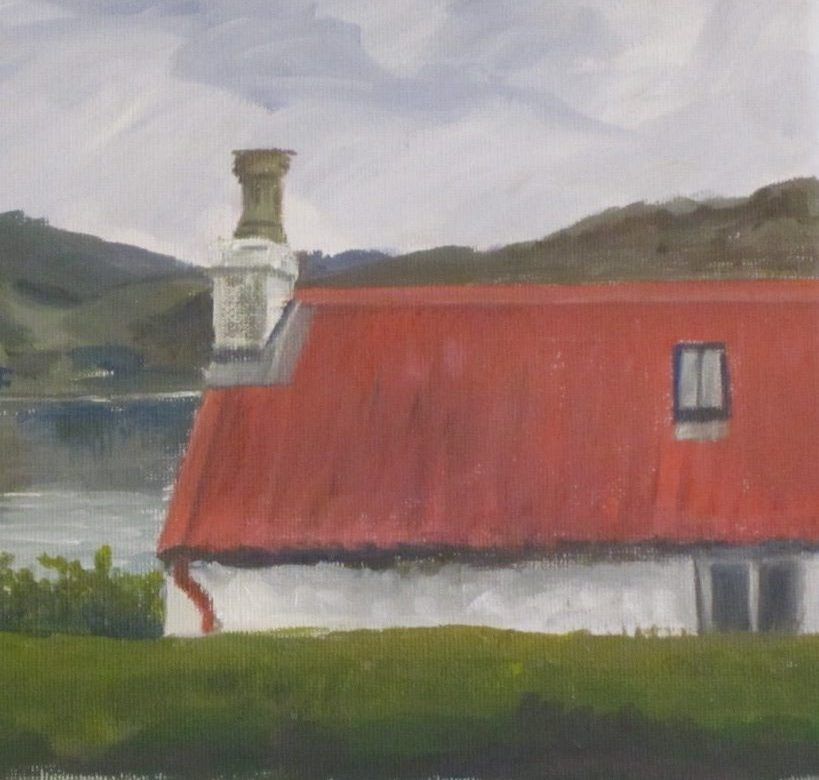 Cindie Reiter - Highland Little Fish
My name is Cindie Reiter I'm an artist and I live in the Scottish Highlands. I'm very inspired by my surroundings, the mountains and lochs near my home. I find myself focussing on the sea and its ever changing moods. I am also drawn to try and capture the contrast between humanity and the majestic landscapes, the mountains and lochs and the wee homes which snuggle beneath the hills. Therefore in the last few years I have primarily been a landscape painter, working both en plein air and in my studio. However, I am always striving to be a better artist. In recent years I have relearned alla-prima (wet on wet) oil painting, concentrating on still life and last year I did a certificate in Botanical illustration with the Royal Botanic Gardens, Edinburgh. Each course has helped me improve my art across all the mediums that I paint in, but I'm still forever learning.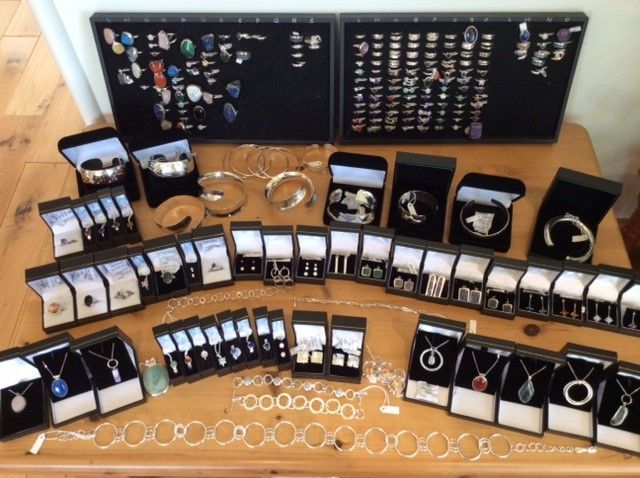 Donnie McDonald - Silver-n-things
Silver'n'things is run by Donnie McDonald from his small workshop in the Highlands. Silver'n'things offers handcrafted sterling silver jewellery made in the Highlands of Scotland. Each piece is unique, using genuine gemstones and 925 sterling silver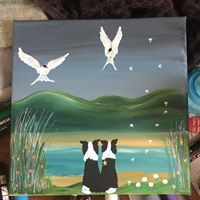 Emma Horne - Two Blue Dogs Designs
Inspired by Sheepdogs and Scotland I aspire to capture both in my Watercolour Paintings and Photography…..The name Two Blue Dogs Designs was inspired by my first 2 blue merle Border Collies, Kem and Kyte. I am pleased to say they are an integral part of my branding since 2007….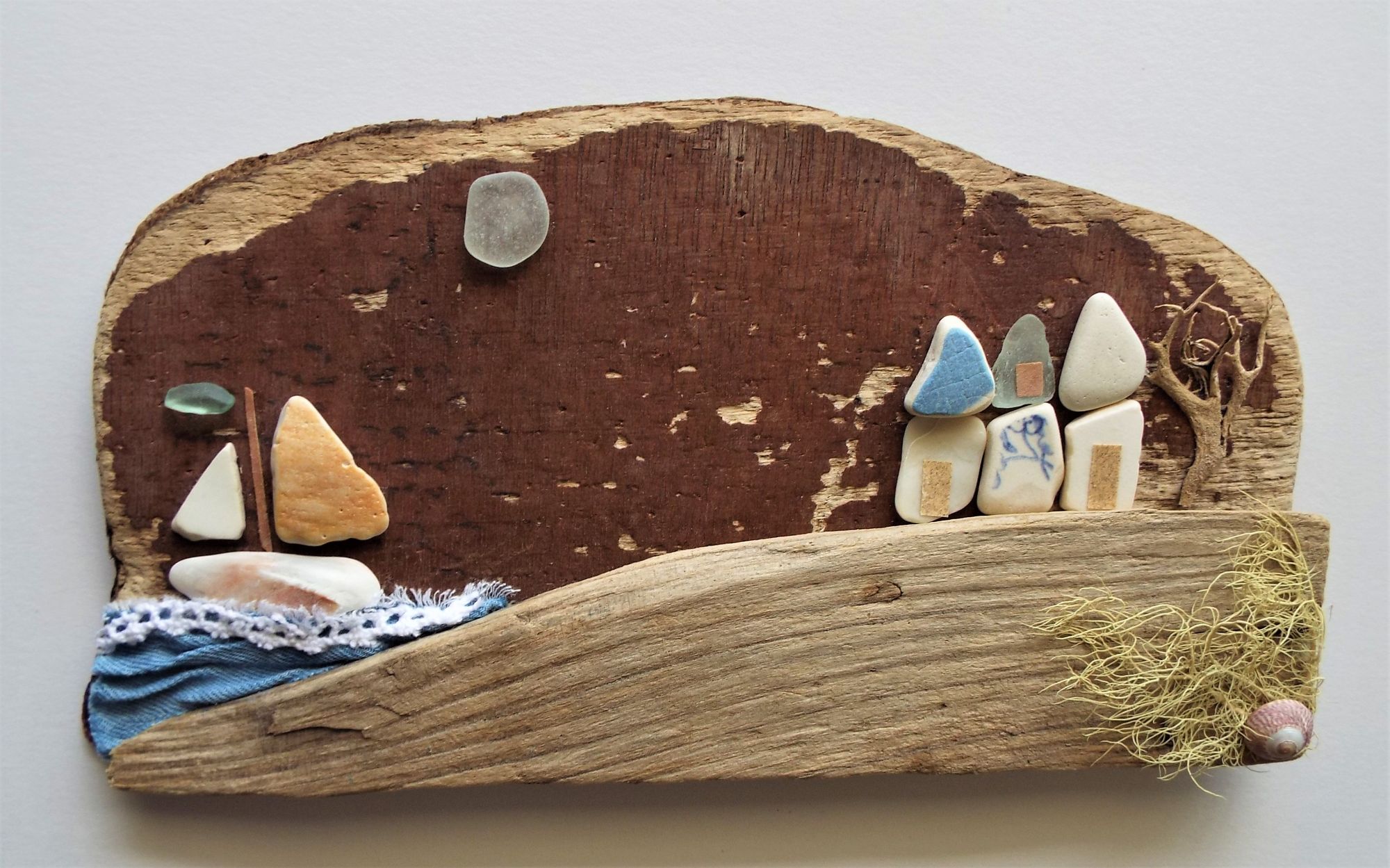 Fiona Perry - Drifted into Design
Fiona has long been captivated by the beauty of the Scottish beaches which is reflected in her work. Beachcombing regularly in all weathers, Fiona gathers the driftwood and other materials herself never failing to be intrigued by the mysterious history or origin of each piece of driftwood, slate, seaglass or pottery.
The textiles seascapes that Fiona creates are particularly influenced by the wild and enthralling north-west coastline of Scotland, where the colours of the sea range from palest aquamarine to indigo, with splashes of white waves and misty Hebridean islands in the distance. Fiona uses hand and machine stitching on the seascapes which are made with mainly recycled fabrics and found objects.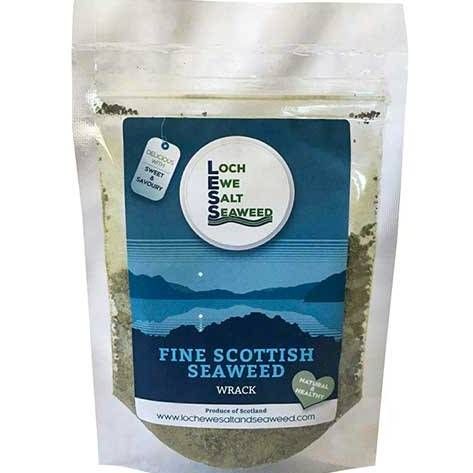 Jackie Macleod - Loch Ewe Salt & Seaweed
We are a sea salt and seaweed company based on Loch Ewe in the beautiful North West highlands of Scotland.
Our products are high in quality and mineral and element rich. We produce and sell sea salt, seaweeds and products containing these ingredients. We feel that for healthy nutritious food you need look no further than our wonderful seas and coastlines, so allow us to cater for you and your family's dietary needs so don't accept anything but L.E.S.S!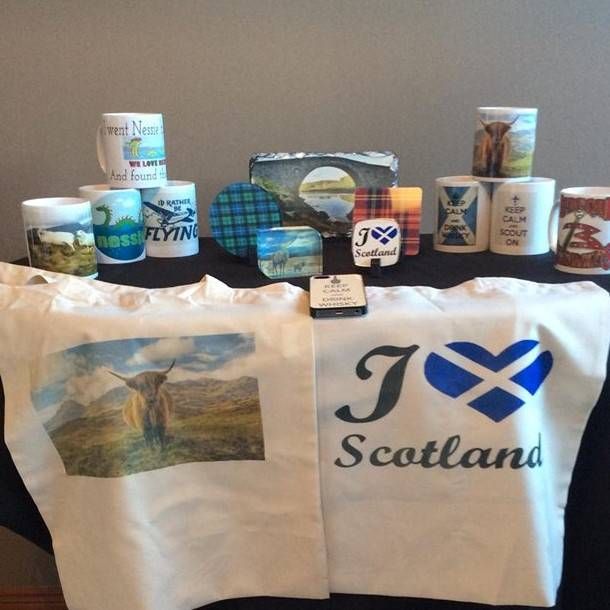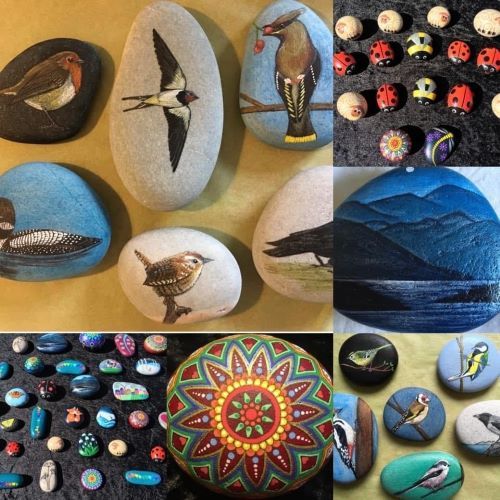 Lisa Stewart - Stuff & Rainbows
Lisa is an artist based near the shores of Little Loch Broom in Wester Ross.
Her work is inspired by a wide range of influences: from the intricate designs and vibrant colours found in Islamic and Indian art to local nature here in the Scottish Highlands - from moody landscapes to tiny insects and delicate flowers.
She transforms beach pebbles into miniature works of art; some as ornaments or paperweights and others as keyrings. She also paints a range of other items including wooden trays, traditional wooden toys such as bendy snakes & spinning tops, as well as locally laser cut wooden clocks, fridge magnets and keyrings.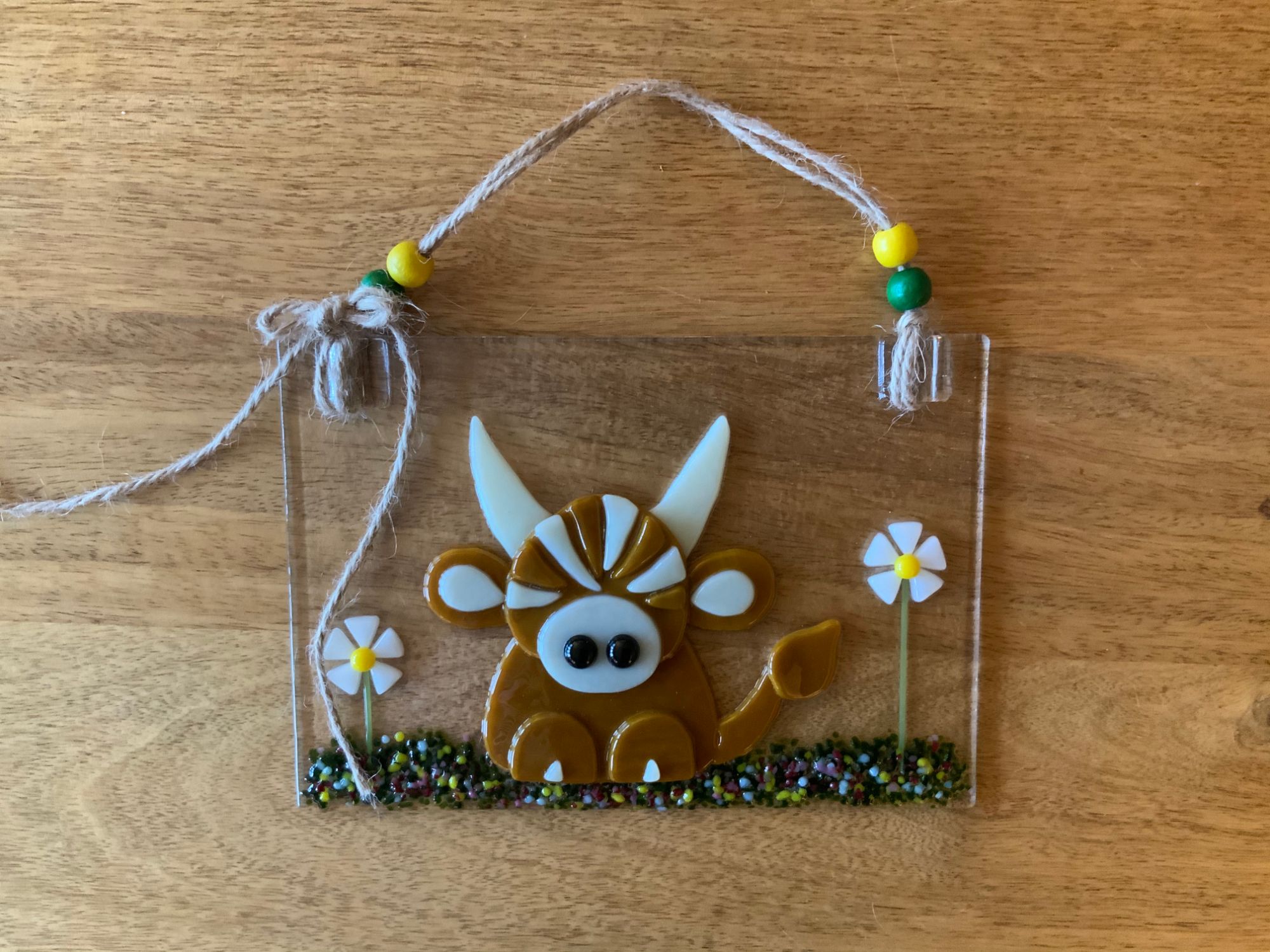 Lynne Westcott - Crafty Burd
My name is Lynne Westcott and since I was a small child I have always loved creating/making things! I have always been fascinated by glass but it was not until I had been on a couple of fused glass courses at a glass studio in Stirling (where I used to live) in June 2014 that I purchased my first Paragon Kiln and Crafty Burd was born!In June 2015 I then added a Gemini Ring Saw which meant I could cut glass to any shape which of course opened up a whole new range of exciting projects for me to try – the possibilites really are endless! I then purchased a second (larger) kiln in April 2016 which has enabled me to fuse larger items such as dishes, plates as well as a selection of fused glass wall hangings. There are so many different colours and textures of glass to experiment with and a never ending list of new techniques to try! In April 2020 an exciting new range of (non glass) products which include some funky boho macrame wall hangings and some colourful and quirky crocheted scarves & cowls, necklaces and super cute drawstring bags have been added.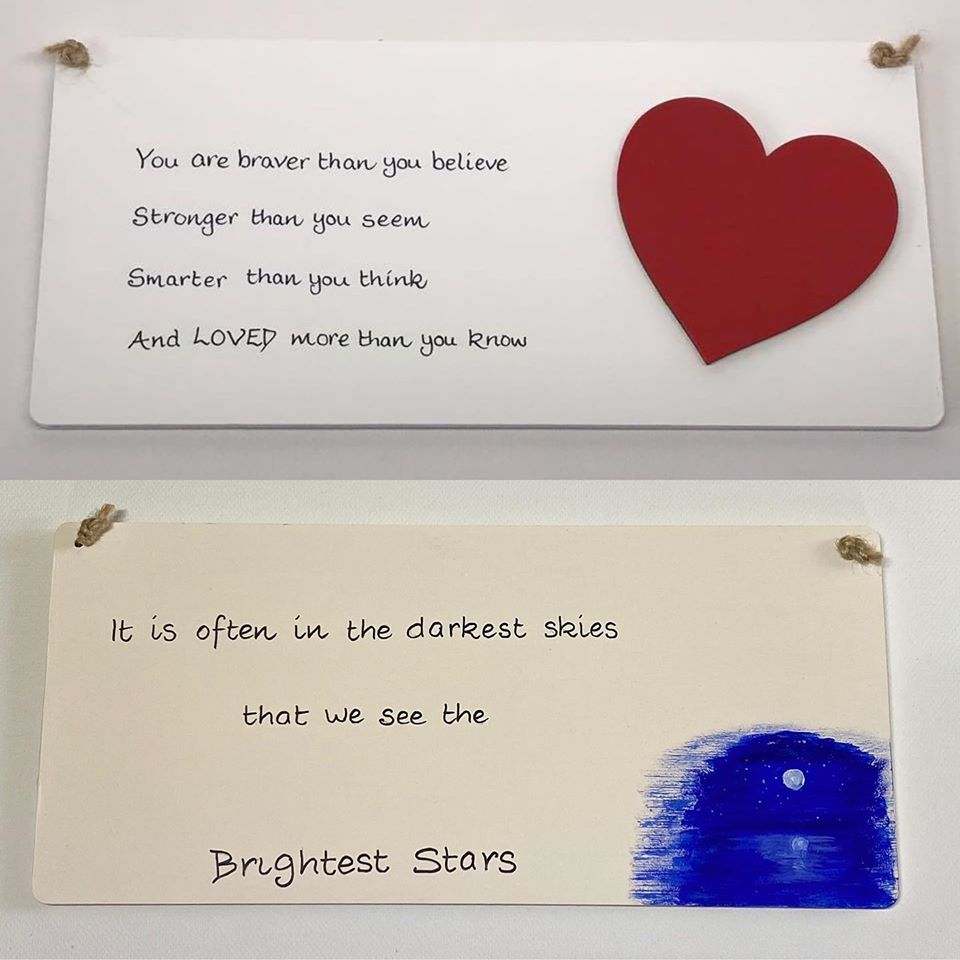 Maggie Innes - MI Designs
Mi Designs is a Moray based business photographing Memory Photos and hand decorated gifts from baby to Granddad.
Personalised beach photographs called Memory Photos. A unique gift to celebrate a special occasion, from births, weddings, birthdays, anniversary, graduation, the list is endless.
Wooden plaques with phrases and fun sayings, I hand paint all the wooden gifts so if you would like a personalised one or a different colour, then please get in touch.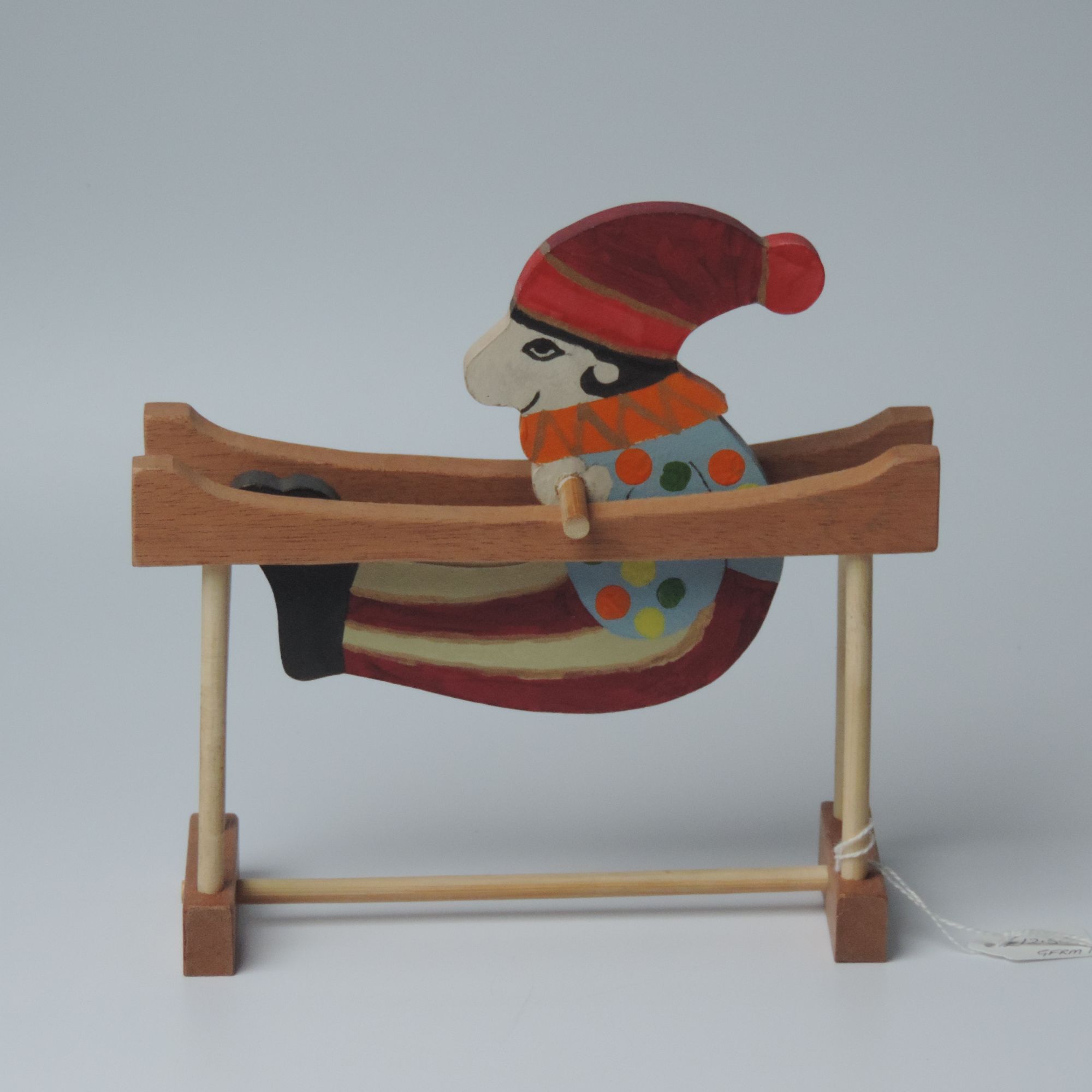 Gordy and Fi Paton - Woodcrafter and artist
Gordy and Fi have recently moved to the area and bring with them years of experience of making handcrafted wooden toys, puzzles, candlesticks, turned bowls and so much more.....you need to come into the shop to appreciate their skill and imagination.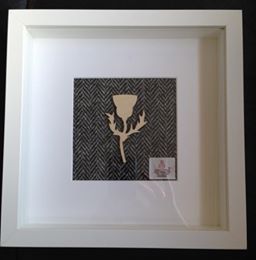 Mhairi MacDonald - Bluebell Jewels Argyll, Fyne Frames & West Coast Grain
We are a family based business, who have been crafting in Argyll for more than 10 years. We started with jewellery then added Fyne Frames to our range a few years ago. For Bluebell Jewels I work with mostly gemstones and Swarovski Crystals but also make my own glass, silver clay and resin creations. With Fyne Frames we specialise in Harris Tweed pictures and clocks using Scottish Themed wooden cut outs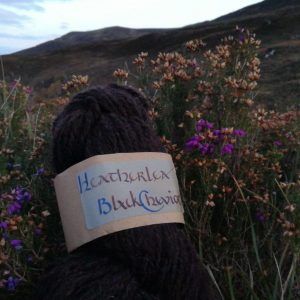 Sabrina Ross - Heatherlea Croft
Heatherlea Croft sits in a remote Sutherland Strath in the Scottish Highlands. We are 5th Generation crofters and run a flock of Hill North Country Cheviot sheep alongside our smaller flock of the rare Black Hill North Country Cheviot. By selling our wool in local village markets, with some going abroad, we wanted to learn more about our product in the hands of experts. The response we've had from knitters near and far has been extremely positive, encouraging us to continue with our next stage and fully embrace the black. We are passionate about our wool. Dedication for high quality and attention to detail is what we do best - for guaranteeing best knitting,crocheting and/or weaving experience for your garments.